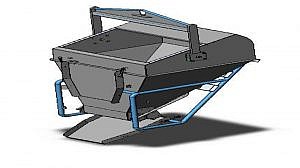 Concrete Kibble CK-2.0
The type CK-2.0 Concrete Laydown Kibble is a heavy duty roll-over style Kibble for use by overhead crane.
This style Kibble is suitable for large applications having a Safe Working Load of 5000kg and a volume capacity of 2.0 cubic meters. Can be used for both bottom discharge or front discharge with the use of the adjustable chute. This unit is lever operated from either side, allowing flexible operation.
The unit has been fitted with forklift pockets for transportation about the worksite and has a storage facility for the chute.
SPECIFICATIONS:
• Safe Working Load (SWL) 5000kg
• Volume Capacity 2.0 cubic meters
• Unit Weight 905kg
• Fork Pocket Size 165 x 65mm
• Fork Pocket Centres 400mm
• Painted 'Safety Yellow" enamel